Just recently a client of ours purchased a brand new Porsche Macan without 3M Paint Protection Film. Unfortunately our client had to make the drive from NC to pick-up his new vehicle from GA.  Our client was very concerned with the possibility of a rock chip or several while he made the 8 hour drive back up to NC.  
Aaron and I thought back to when we were in CO.  Often we would see people driving their vehicles with blue painter's tape across the front end to protect it while they were driving through the Rockies.  We always thought, "Don't they know about 3M paint protection film?" or "Do they do that every time they go on a road trip?".   
Well, blue painter's tape is a great temporary fix, although ugly on a awesome vehicle.  However, it did it's job.  Our client's vehicle was protected while he made the drive back to NC to have a virtually invisible product installed.  Our client did a great job wrapping the front with 3M Blue Painter's Tape, but as you can see below in the before and after, installing 3M Paint Protection Film is definitely the way to go.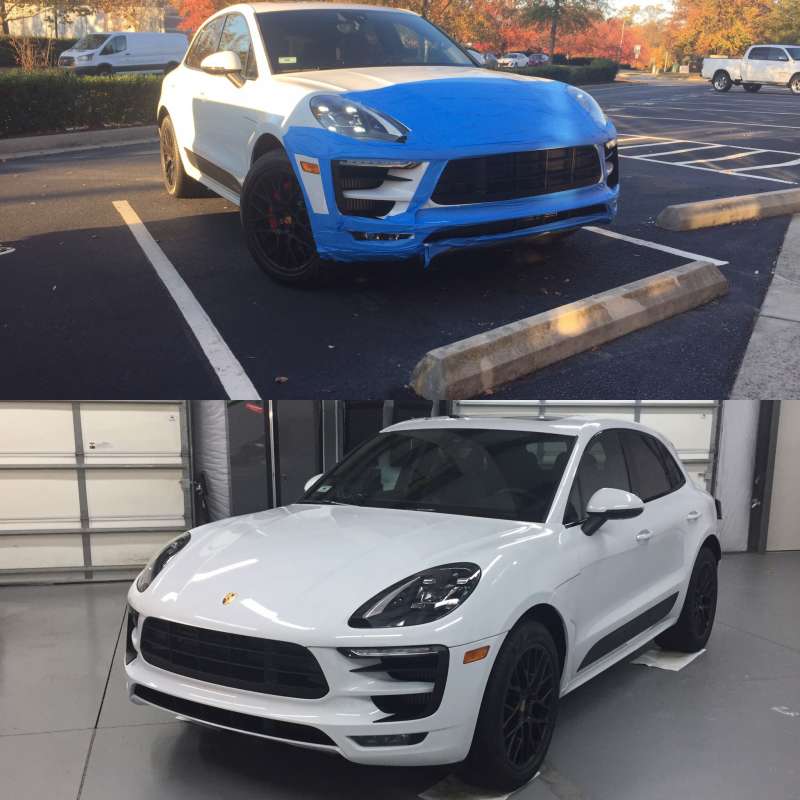 Custom Tint completely protected this Porsche Macan with 3M Paint Protection Film. Areas protected are the full hood, full fenders, bumper, headlights, driving lights, mirrors, full rear bumper, full rear lift gate, interior step plates and the door cups and edges.  Our client can now drive his vehicle with piece of mind knowing that it is protected from the damaging rocks or debris that we have on the roads here.
Have you noticed the pile of rocks at almost every intersection? Or the amount of road debris on our surrounding interstates? This is due to the amount of construction and road work that is taking place in our ever growing city. 
Protect your vehicle's paint finish from stains due to bugs, sap, and bird droppings. Let 3M Paint Protection Film take the brunt of everyday driving and environmental hazards, not your paint finish. Plus, 3M Pro Series Paint Protection Film is completely removable with no damage to your paint.
With so many benefits of 3M Paint Protection Film, why wouldn't you want to protect your investment? Contact the film specialists at Custom Tint to learn more about protecting your investment.